Last Shots at Jerry's Budget
"Aren't payrolls down across baseball?" was a question on Twitter in response to the February 6 Sox In The Basement episodic rant against Jerry Reinsdorf going cheap on the off-season. Payrolls are not universally is the answer, and comparing the White Sox to some teams is comparing apples and ass holes (being holes dug expertly by Donkeys). But there are a few teams to look at, and when the Sox are compared in the right context, the frustration at Jerry becomes evident.
Among the AL contenders, Toronto added $29 million coming out of a rebuild, the Twins added $8 million, and if you want to give them contender status, the Angels added $2 million. The Yankees (-$45 million), Astros (-$28 million), A's (-$9 million), and Rays (-$3 million) all dropped their payroll from last year. The Sox are more or less neutral. The rest of the AL is either actively shedding salary (i.e. The Cleveland Baseball Assemblage), adding but not competitive (i.e. the Bahwstan Red Sawks) or in a haze of perpetual suckitude (i.e. the Baltimore Orioles). All numbers taken from Fangraphs and obviously barring any new contracts that haven't been announced.
The NL, per Fangraphs, is the same mixed bag. Among actual contenders, the Dodgers are up $23 million and San Diego is up…only $3 million awaiting some final arb figures. Among teams that might not contend, the Nationals added $13 million (to finish 4th?), The Phillies are up $6 million (to finish 5th?) and the Rockies somehow added $34 million by trading their best player away. Everyone else dropped payroll in the NL.
Comparing the White Sox to the Dodgers and Yankees is a little unfair because those two teams tend to not have budget restraints like the rest of the league. They seem to try and stay within the threshold of avoiding the luxury tax, but beyond that they will spend large when needed. See Bauer, Trevor and his insane $40+ Million AAV. Looking at how the Dodgers did it, they dropped high priced depth like Joc Pederson and Kike Hernández, among others, and so far haven't reunited with Justin Turner's high salary, but then spent crazy on Bauer. The Yankees dropped high priced rotation members JA Happ and Masahiro Tanaka for the cheaper Cory Kluber and Jameson Taillon.
Comparing the White Sox to the small market Rays and the smaller-market-than-Chicago Astros is more historically where the Sox sit, but not where as a fan you want them to be. The Rays dropped their two best and most expensive pitchers in Charlie Morton and Blake Snell, replacing them with Michael Wacha and Luis Patino, who are not as good. The Astros basically subtracted pricey OFs George Springer and Josh Reddick, replacing them with no one from a free agent standpoint. The Rays have half the Sox' payroll while the Astros are well above the Sox.
Really, though, the Rays are perpetually low payroll and the Astros are paying for their recent success with high priced veterans. The two teams that should be of interest to Sox fans are the Blue Jays and the Padres.
Why those two teams as a metric? They too are adding to a youth movement to try and compete for a playoff spot and ideally a championship. The Blue Jays are building around a core of legacy players in Cavan (Craig) Biggio, Bo (Dante) Bichette, and Vlad (Vladdy Daddy) Guerrero, with young guys like the awesomely named Rowdy Tellez and the enigmatic Teoscar Hernandez joining the fun. The Padres are building around youngsters like Fernando Tatis, Jr. (also a legacy) and Trent Grisham, while adding superstars like Manny Machado and spinning off prospects for veterans.
Neither team is close to the media market that Chicago has, but both teams also do not share their city with another MLB team. In fact, the Padres are San Diego's only major sports franchise. In person the Padres attracted 29,585 per game in 2019, The Jays drew 21,606 and the Sox 20,622 per game. All three were below league average for total attendance, each by under 500,000 butts. We have yet to see what the attendance policies will be in Chicago, Toronto and San Diego due to Covid, and "Toronto" may be Buffalo, NY for the time being for in-person attendance (that stadium holds 16,600). In spite of being a smaller media market and potentially having to play in a minor league stadium, The 2021 Blue Jays are already outspending the 2021 White Sox. The 2021 Padres with a smaller TV market and better 2019 attendance are as well.
The Blue Jays are handling their rebuild more like Rick Hahn has handled the Sox rebuild. Rick is keeping his young guys and putting them in the lineup to do their thing. He built up a farm system that became top heavy, then tried to add veterans to plug the holes. The Padres have been using their youth more like the Cubs did before their 2016 Series win. The Padres have kept a few choice prospects that are now in or about to be in the majors, and traded a bunch to add veterans in key places, while signing some of the best free agents available.
So is the Padres method better? Well, in a sense it could be, but by Fangraphs measurements, they have the 9th highest payroll in the MLB compared to the Blue Jays at 14 and the Sox at 16. The Padres have 22 players currently on their roster age 27 or older, The Blue Jays have 17 such players and the Sox have 13. So the Sox are the youngest team, which would lend themselves to being less expensive, but we also know that there are question marks on the Sox that free agents would have answered. Let's look at the holes on the other two.
The Padres will have a lineup of Austin Nola (C), Eric Hosmer (1B), Jake Cronenworth or Ha-Seong Kim (2B), Manny Machado (3B) Fernando Tatis Jr. (SS) and an outfield of Trent Grisham, Tommy Pham, and Wil Myers. If they use a DH, it could be Kim or Cronenworth, or Jurickson Profar. Their starting rotation of Yu Darvish, Blake Snell, Dinelson Lamet, Joe Musgrove and Chris Paddack is bolstered by a veteran bullpen with Drew Pomeranz set to close. The question marks there are Pham and Myers, Pham because of injury and Myers more for under performing his contract. Their 'pen, while experienced and good, isn't big name and Pomeranz has all of 9 career saves.
The Blue Jays will have a lineup of Danny Jansen/Alejandro Kirk (C), Vlad Jr. (1B), Marcus Semien (2B), Cavan Biggio (3B), Bo Bichette (SS), an outfield of Teoscar Hernandez, Lourdes Gurriel Jr., and George Springer with Rowdy Tellez as the primary DH. Their rotation is Hyun-Jin Ryu, Nate Pearson, Tanner Roark, Stephen Matz and Robbie Ray. The bullpen is also veteran, but not very good until you get to Kirby Yates as the closer (if Yates is healthy). If Yates is 100% the 'pen is still a question mark but with a top end closer, and the rotation lacks a true ace unless Pearson progresses or your opinion of Ryu is exceptionally high compared to reality. Robbie Ray kinda sucks. The lineup has a hole at catcher, where Kirk is supposedly the better offensive player but limited defensively by what we'll call an "every man" physique; Jansen can catch but so far hasn't hit.
Let's assume the Sox start Vaughn at DH, joining Yasmani Grandal (C), Jose Abreu (1B), Nick Madrigal (2B), Yoan Moncada (3B), Tim Anderson (SS), and an outfield of the Adams Eaton and Engel, Luis Robert and Eloy Jimenez. The rotation will be Lucas Giolito, Dallas Kuechel, Lance Lynn, Dylan Cease and for the moment, assume Carlos Rodón. The 'pen is the youngest between the three teams by a mile, and the only one with two bona fide stud relievers in Aaron Bummer and Liam Hendriks. The rotation is headed by a current ace and a former Cy Young winner, with back end questions answerable in whether Cease progresses and whoever is 5th being at least serviceable. The other question is youth not having a track record, that really applies to some of the pen, Nick Madrigal, Luis Robert and…Andrew Vaughn.
Let's rank the three then by position and cost:
Rotation: Padres, White Sox, Blue Jays. The Padres are wondering what Chris Paddack is, but barring injury they have a pretty good idea of the rest. Darvish, Snell, and Limet are all recently the legit aces of their 2020 teams and Joe Musgrove is a veteran who should get a bounce up just by leaving Pittsburgh. The Sox having some issues at 4-5 is mitigated by Cease being a high-end prospect and Kopech being their best pitching prospect, but the Padres have that depth too. It's close. The Jays? Way behind but at the highest cost. Spending rank (Hi to Lo): Blue Jays, Padres, White Sox.
Bullpen: White Sox, Padres, Blue Jays. The Southsiders have the best closer of the three, and youngsters on the way up rather than the mid-level vets in San Diego and Toronto/Buffalo. Spending rank (Hi to Lo): White Sox/Padres (basically a tie), Blue Jays.
Outfield: White Sox, Blue Jays, Padres. I'll assume that everyone is at their best; Robert and Eloy are the best of the young guys (Grisham and Gurriel are very good though), Springer is better than Eaton, who is at least on par with Pham, and both are better than Myers. Hernandez' potential in the Blue Jays OF could make this closer but his history suggests that he's more Wil Myers (power, low average) than Springer. Spending rank (Hi to Lo): Padres/Blue Jays (basically a tie), White Sox.
Shortstop: Padres, White Sox, Blue Jays. I'd take any of the three but Tatis became something special after he got to San Diego. Bichette's really good, but TA7 might win a few more batting titles before he's done. Spending rank (Hi to Lo): White Sox, Padres, Blue Jays.
Third Base: Padres, White Sox, Blue Jays. Manny Machado until proven otherwise, but Moncada is a complete hitter not far off from Machado's level, and both are better than Biggio. Spending rank (Hi to Lo): Padres, White Sox, Blue Jays.
Second Base: Pick 'em. If Marcus Semien is his 2019 version, he's better than Madrigal because of Madrigal's complete lack of power. But Semien hasn't always been that guy, and has been not good at all in the past. Madrigal could be better than Cronenworth or Kim, but none of them have a track record long enough to know for sure. Spending rank (Hi to Lo): Blue Jays, Padres, White Sox.
First Base: White Sox, Blue Jays, Padres. MVPito! Vlad Jr. still has potential but hasn't reached it. Hosmer is expensive but nowhere near Jose Abreu's level. Spending rank (Hi to Lo): Padres, White Sox, Blue Jays.
Catcher: White Sox, Padres, Blue Jays. This is the best or just about the best catcher in baseball for the Sox versus a late-breakout guy for the Padres and a two-headed/two-and-a-half-bellied monster in Toronto. No competition. Spending rank (Hi to Lo): White Sox, Padres, Blue Jays.
DH: Blue Jays, White Sox, Padres. Rowdy Tellez isn't great, he's a typical high power/low average/high K slugger. Cronenworth, Kim, and Vaughn are unknowns, with Vaughn having the best pedigree. Profar…meh. Spending rank (Hi to Lo): Padres, White Sox/Blue Jays (pre-arb tie).
Among the rebuilding teams that are opening their World Series window this year, the White Sox have the best bullpen, outfield, first baseman and catcher, are are just behind at starting rotation, third base, and shortstop. They're chasing the Padres for the best rotation, the best third baseman and best shortstop. The Jays have the best DH more or less by default and possibly the best second baseman. The Jays, having committed a huge new amount of dollars to their 2021 payroll, have a very mediocre pitching staff with little upside, and lag behind in just about every category on the field. The Sox have it over the Padres in a few areas at far less of a payroll, and the gap in the areas where they are behind the Padres isn't as wide as where the Padres are behind the Sox.
Each of the teams did what the Sox did too, ejecting some salary to add some salary, but the Padres and Blue Jays both added impact players and long-term commitments to their overall payroll instead of trying to stay balanced. With the estimated arb figures remaining, the Padres will be $11-$12 million over last year and the Blue Jays jumping to almost a full $40 million increase. But the Blue Jays have spent really poorly, and are still just above the Sox in payroll. Then again, Sox jumped $40 million between 2019-2020, so let's say the Jays are a year behind the other two teams in this comparison. The Sox don't need to add $40 million this off-season.
But if the Sox added $12 million like the Padres, they could still add a DH and a 4th/5th starter as fans want. The results vary but it's worth a look.
Would they be better than the Padres with Mike Fiers ($2.5 million) and Eddie Rosario ($8 million)? Fiers isn't as good as Musgrove and in a past post I noted that Rosario is what Vaughn would be if he repeats what Gordon Beckham did as a rookie (got that?). Would you believe staying with Vaughn and adding Cory Kluber ($11 million)? Kluber at his best is an ace…the Sox rotation would then be better than the Padres, but he has to make a comeback at 34. Carlos Santana ($8.75 million) and Michael Wacha ($3 million)? Wacha is mediocre, Santana might be Encarnacion part 2. They'd help at their best but no one is sure that they still have it. That's an example of moves for the sake of moves that aren't needed.
Or, since they can't sign guys that are already signed, see if Josh Reddick and Brett Anderson would each take $6 million? Reddick might not be an upgrade over Vaughn, but Anderson would be a good add. Or Mitch Moreland for $2 million and "The Big Maple" James Paxton or Taijuan Walker for $10 million? Well, there you'd feel pretty damn good.
So the frustration and fury if the Sox don't add to the payroll isn't that all other teams are adding, or that they need to be the Yankees or Dodgers. If they added…and added as smartly as Hahn has done so far…they'd be the best team coming out of a rebuild and their championship window would look like a large bay window with nice treatments. But unlike their closest peers…they are sitting still instead of taking that next step and it is legitimately frustrating.
NO MO' FOMO, yo.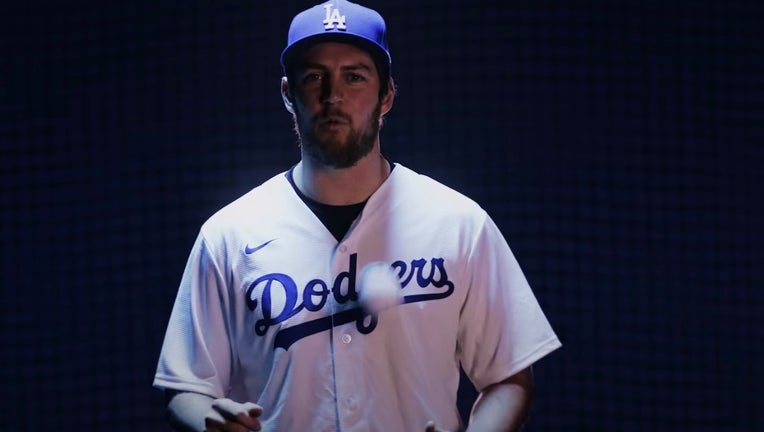 A couple names left the market this weekend that Sox fans might lament. Don't.
TREVOR BAUER. Holy underwear that's a lot of money. For a guy that baseballreference.com has most similar to Chris Young. Remember him? He was a guy. Not a hall of famer or even the best on his staff…ever. Just…a guy who had a decent run. Bauer was pretty good in 2018, a 2.21 ERA, 1.089 WHIP before struggles in Cincinnati in 2019 caused his numbers to regress to his pre-2018 mediocrity of ERAs in the 4.40 range and a WHIP around 1.35. No doubt he was great last year, but only over 11 starts. Prior to 2018? Just a guy who might have a decent run. Sox fans, he hasn't justified that contract yet. he was not a fit. Nothing to lose sleep over.
MIKE FOLTY…neveritch? Ehh…whatever. He's a Ranger at $2 million..cheap as free. Like a lot of Sox fans, I knew the name because of his stellar 2018 with the Braves, and didn't realize that he's a 29-year old with an MLB career 4.93 ERA in years that aren't 2018 (when he was good) and 2020 (when he lasted 3.1 innings before the Braves dumped him). He's actually not good.
JOC PEDERSON. It came out he turned down the Sox offer and ended up taking less to be a Cub. No loss there because the guy would have platooned with Adam Engel; Pederson is awful against lefties. No loss there.
MARCELL OZUNA. Not the best fielder but at $16 million I think he's pretty fairly priced, although a 4-year commitment with a 5th year option isn't ideally where the Sox like to go. Still, if I was Jerry this was the type of guy you splurge on and then convince J.B. Pritzger and Lori Lightfoot to open the park. I wasn't high on Ozuna coming here but he would have put the Sox over. Ok…you can have one FOMO. Now go to bed.
A Lineup's worth of Things about the Sox that worry me, an ongoing list:
It is there for the taking, does Jerry want it?
That there really isn't enough to worry about with this team and I'll have to kill the bit. Maybe when the playing starts…
I have to admit the attendance figures were depressing to look at. Go to the games as soon as we can.
Walls and Nets vs. Eloy. (Stay on the grass buddy).
"The team is on the floor"…but no one is available if the floor has a crack and trips someone.
That we got mildly excited at Jonathan Lucroy signing a minor league deal.
Carlos Rodón was the best at that budget..and that was the budget.
Nick Madrigal is overhyped.
That this team still has me looking forward to minor league deals at all.
And warming up in the pen: a repeat of 1994.